June is known for quite a few things; prom and graduation season, the premiere month for summer weddings, and of course, Pride Month. 
Originally starting out in New York City 1969, June marks the celebration of the LGBTQIA+ individuals around the world. The month is filled with marches, festivities, and a whole host of events to mark the strides made around the world by this incredible community, and as a reminder of how much more work there is still left to be done. As with any festive event, but especially those that take place during Pride Month, makeup plays an important role in how you celebrate. 
Here are a few festive makeup ideas to take pride in stride during this eventful month. 
Multi-Hued Eyes
As much as we all love a neutral smokey eye, if there is any month to play with a bolder colors, June would be it. There are quite a few ways you can go about incorporating color into your eye makeup look. 
One way you can go about it is by taking inspiration from this colorful look created by NikkieTutorials, where you create a smokey eye following the direction of ROYGBIV (Red-Orange-Yellow-Blue-Green-Indigo-Violet) on the upper and lower lids. Or, depending on whichever orientation you identify with, you can style your eyeshadow after colors of the individual pride flags. For example, blue, pink, and purple hues of the Bisexual flag, the blue, pink, and white colors of the Trans flag, and so on. 
A simpler and less time-consuming way to go for a bright eyemakeup look is to pop a neutral tone into the crease of your eye, blend it out, and then pop a duo or multi-chrome shadow, pigment, or glitter across the lid. 
One aptly-named product you can go with is the Danessa Myricks Infinite Chrome Flakes Multichrome Gel for Eyes & Face in the shade "Pride" or "Bi-Pride"($25). This product is made to mimic the look of a glittering foil across the eye and takes zero effort to blend out. Just pop the gel across the lid, or on your cheekbones if you're done for it, with the pad of your ring finger or with a flat eyeshadow brush. 
Glitter, Glitter, and, Wait, More Glitter
If there is any month that you can please your inner child who was obsessed with glitter and princesses and unicorns, or your glamorous inner showgirl, June is the month to bring out all the glitter to the forefront.  As mentioned earlier, you can go in with a neutral color in the crease of your eye and go in with a multi-colored, eye-safe makeup product such as with a glitter liner, like the Kiko Milano Glitter Eyeliner in "Multicolour" ($13.50). 
Another way to incorporate glitter into your makeup, and quick warning this is not for the shy, is to pop the glitter onto your lips. Use a lip-safe product, like the about-face Fractal Glitter Lip Color Shimmering Liquid Lipstick ($14), to make for a in-your-face look. 
Lashes For Days
There is nothing that quite screams "Pride Month!" better than a pair of larger-than-life lashes. 
Rainbow Manis 
Pride Month isn't just about your face beat, it's also all about the nails. As classic as a standard french manicure is or as lovely as a classic red stiletto nail looks, June is the month to indulge in a rainbow-hued, eye-catching nail set… although really every month is a month to indulge depending on how bold your style is. 
Here are a few louder-than-life nail sets you can try to take pride in stride:
IMPRESS PRESS-ON MANICURE in "Feeling Proud" ($9.49) are –hands down–the easiest and fasted way to get rainbow-ready. You don't need glue, so all you have to do is peel (just like a sticker), press and go!
If you're a devotee to the french tip, but you want to take a more fabulous twist on a classic style check out the KISS  Special Design Nails in "First Class" ($8.99).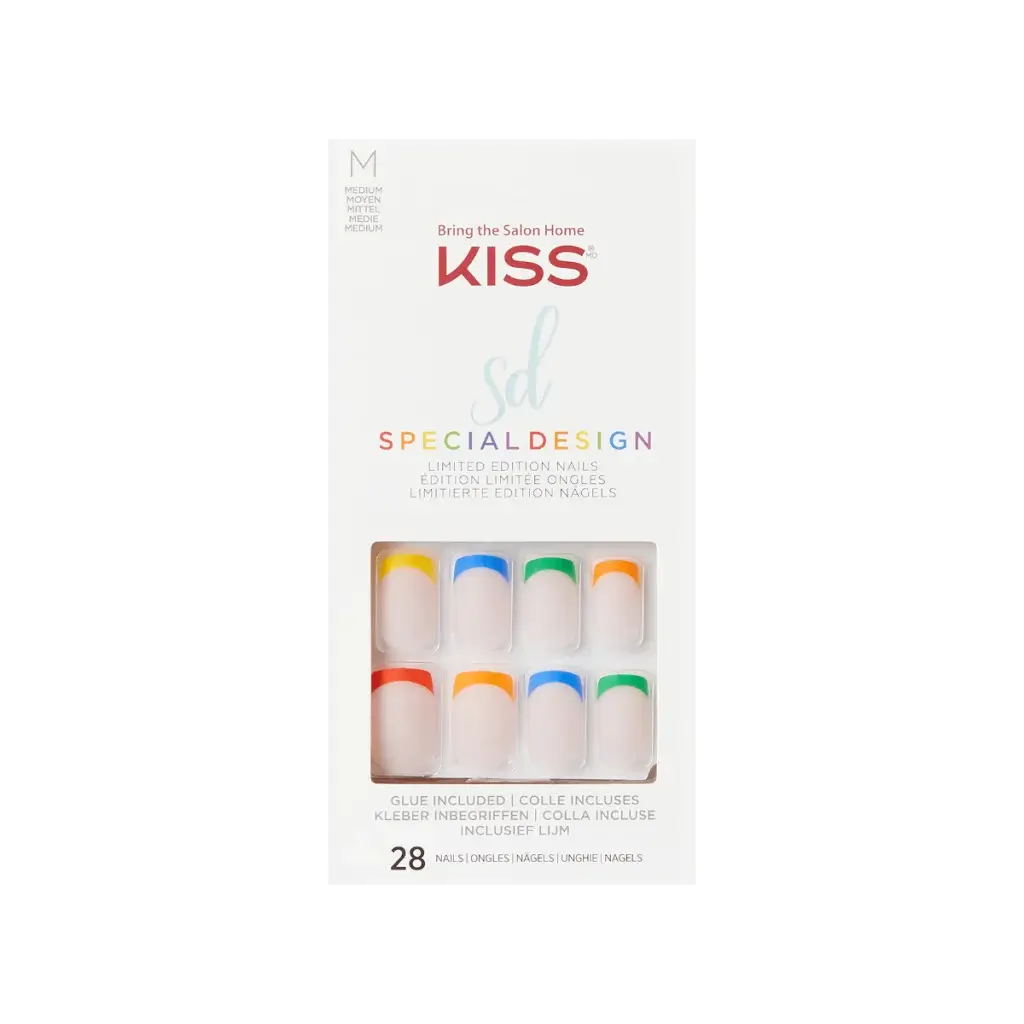 If you're not afraid of a louder and longer set of nails, try out the KISS Voguish Fantasy Pride Nails in "Peekabo" ($8.99). This medium almond set features a fun mix of nails including a black, glossy finish, black-and-white sparkles, and white and rainbow-hued hearts.  
And for the bolder divas in the room, I'd recommend to play with the KISS Special Design Nails in "Sundress" ($8.99). This medium-length, coffin-shaped set features a mix of nails including a black, matte finish, silver and chrome sparkles, and several glossy, black nails marked by the rainbow. 
Don't forget to get your toes Pride-ready! These KISS GEL FANTASY PRIDE TOENAILS in 'Ego' ($8.99) are the easiest ways to bring on the smiles.
KISS is celebrating Pride Month by supporting The Trevor Project, and with these specially designed Gel Fantasy Toenails. KISS Gel Fantasy Ready-To-Wear Fake Toenails feature the latest hot designs in the most fashionable colors! Pair these rainbow-colored toenails with  KISS Voguish Fantasy manicure style 'Ego' for a matching mani/pedi. These false nails are durable, flexible, and they never dull or chip. The gel finish is pre-cured and pre-applied, plus, the nails stay perfect for up to a week.