July is my birthday month and it's my favorite time of the year! As the sun shines its brightest and the days grow longer, it's the perfect time to indulge in some of my beauty obsessions that will make your summer sparkle.
Below, I unveil my top beauty favorites for July, featuring lashes that accentuate your eyes, a mascara that won't run (really!), a blush that embodies the playful spirit of Barbiecore, a press-on pedi for stunning summer-ready toes, and a must-have moisturizer that will keep your skin glowing throughout the season. Here are my top July faves…
This handy-dandy DIY microdermabrasion device fits in the palm of your hand but has the power to exfoliate your skin on a med-spa level, and give you glowing, radiant skin. The Vita Solo performs microdermabrasion—the perfect at-home facial treatment to buff away dead skin cells, leaving your skin looking and feeling smoother and more radiant.
Regular exfoliation reduces the appearance of fine lines, wrinkles, hyperpigmentation, and age spots. The diamond tip exfoliates to promote overall softness, smoothness, a brighter complexion, and better product absorption. It's really SO simple and I use it twice a week to keep my skin looking radiant.
My favorite eye look is finally easy than ever. Purr-fect! Yup, I am obsessed with these DIY lash extensions you can score at the drug store and the cat eye styles you that sultry, feline stare in a flash. What's so unique about Falscara? Unlike traditional falsies, these wisps are tiny clusters of featherlight false lashes that go under your natural lashes, so the bands aren't visible. That's what makes them look so natural!
If you're looking to get in on the Barbiecore makeup trend, this blush will live you pink cheeks of your dreams! This luxe, buildable blush for cheeks and eyes is a hydrating, ultra-thin powder that really has some major color payoff. When it comes to blush I tend to stay away from a lot of color, but this one gives me that perfect flush without being too overpowering. So worth the splurge!
How cute are these Barbie-inspired press-on toenails?! I am SO into my Malibu Barbie era and these pressies are just so playful and perfect. Get a professional looking pedicure without an expensive trip to the salon, and yeah, they really fit, they really stay, and they really look fabulous on. These false toenails come ready to wear, no glue or polish needed. Just peel, press, and go! Hands down, the easiest way to get your pedi on point!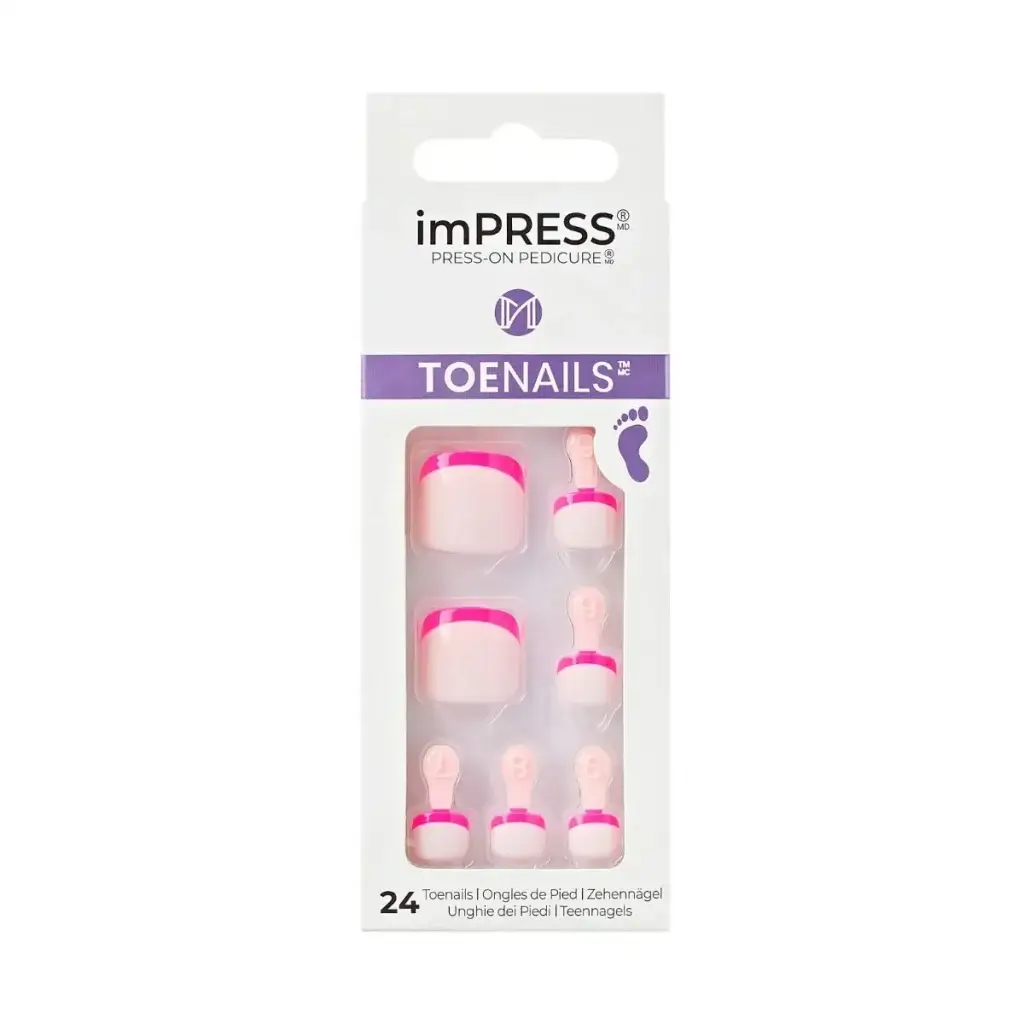 If you're looking to invest in a top-notch moisturizer, I highly recommend this one! This hydrating cream features an exclusive multi-tier molecular weight Hyaluronic Acid Complex that infuses skin with moisture and supports collagen to help diminish fine lines and wrinkles and achieve healthy-looking skin. It's formulated for all skin types while supporting the needs of dry, mature and textured skin. I turned 51 earlier this month, and happy to say, my skin still looks pretty darn youthful!
Pool parties, day at the beach…you name it! This revolutionary high impact waterproof mascara with volume-maximizing brush precisely coats and conditions each lash for fierce volume, length and lift. For the days I want to dive in without any worries I always pop this waterproof mascara on. Yep, I know what you're thinking, and NO this is not harsh on your lashes at all! It feels fab on–for real!