In the ever-evolving world of skincare and beauty, there's always something new and exciting on the horizon. Peptides are one such beauty buzzword that has taken the industry by storm. These tiny but mighty molecules have been making waves in the beauty world for their remarkable benefits.  When it comes to skincare and beauty, peptides are commonly touted for their ability to stimulate collagen synthesis, which is essential for maintaining youthful and firm skin. Should you put the power of peptides on your side? Ahead, we asked an expert to weigh in.
What Are Peptides?
"Peptides are made up of short chains of amino acids," says dermatology nurse practitioner Dr. Jodi LoGerfo . "Think of them like small proteins (amino acids are the building blocks of protein)." They can be made of 2, 3 or even 4 amino acids; they are available with variations in the number of amino acids and sequence," she explains.
Are Peptides the Secret to Radiant Skin?
According to Dr. LoGerfo, the peptide must be able to penetrate the skin in order to be effective. Peptides are touted to help reduce fine lines and wrinkles, prevent damage from ultraviolet light, heal wounds and skin irritation and treat acne, however there is limited scientific evidence, she adds. "Copper peptides are very popular in skincare. Studies show that copper peptides may promote collagen and elastin production as well as help maintain it. They may also help remove damaged collagen."
Peptides for Anti-Aging
One of the primary reasons peptides have gained so much attention in the beauty industry is their remarkable anti-aging properties. As we age, collagen production naturally declines, leading to the formation of fine lines and wrinkles. Peptides can help reverse this process by signaling the skin to produce more collagen, resulting in smoother, firmer, and more youthful-looking skin.
Peptides Work Best in a Regimen
While peptides can deliver noticeable improvements on their own, they work most effectively when integrated into a comprehensive skincare regimen. Combining peptides with other powerhouse ingredients like antioxidants, hyaluronic acid, and retinol can amplify their effects. Layer your peptide-containing products after cleansing and toning, and follow up with a quality moisturizer and sunscreen during the day to protect your skin from UV damage.
Patience is Key
Patience is a virtue when it comes to reaping the benefits of peptides. Unlike some skincare ingredients that provide instant gratification, peptides work beneath the surface to improve skin health over time. It may take several weeks or even months of consistent use to see significant results. Be diligent with your skincare routine and stay committed to experiencing the full potential of peptides.
How Often Can Your Apply Peptides?
Dr. LoGerfo says you can use peptides 1-2 times a day." Her top product suggestion: The INKEY List Collagen Peptide Serum ($12.99.)
Shop Beautify's 5 Favorite Peptide Products
The natural dewy look and second-skin finish feel weightless and hydrating. Infused with 3% radiance-boosting Peptides that are clinically proven to strengthen the skin's natural barrier*, boost youthful collagen production, and ease damaging inflammation.
This hydrating lippie is formulated with luxuriously moisturizing coconut oil, argan oil, camellia oil, and shea butter.
Combining an abundance of peptides that work to reduce the appearance of pores, sagging skin, wrinkles and fend off the damaging effects of environmental stressors, this powerful serum works wonders on stressed/aging skin.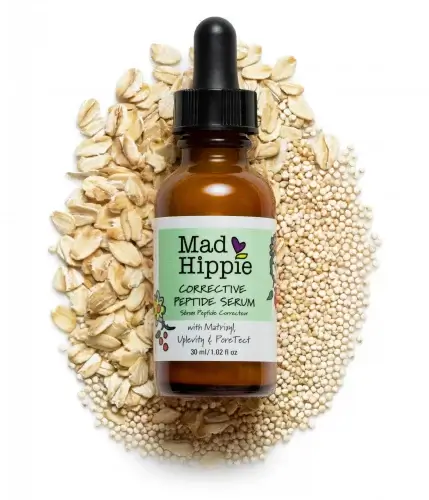 Used daily, this innovative alliance helps firm the eye area by working on rhytides — a.k.a. fine lines and minor creases — and improving the appearance of three types of wrinkles: crow's feet, inner corner creases, and dehydration lines.
This peptide-infused, hyaluronic acid moisturizer helps to restore skin cells. It provides lightweight hydration that can be easily absorbed, and it works well under makeup.