Ready to effortlessly elevate your nail game this holiday season? Cashmere nails are here to add a touch of luxury and texture to your manicure routine. This latest trend takes basic shades and transforms them into a cozy, chic, and contemporary mani that literally goes with everything. Yep, I'm calling it: Cashmere nails will be giving all the feels this holiday season!
The soft, cozy, and chic aesthetic of cashmere nails complements any outfit and is perfect for any occasion. Whether you're headed to a holiday party or a casual weekend brunch, your nails will be on trend and on point. Read on to learn all about cashmere nails and how to DIY the look in minutes.
What Are Cashmere Nails?
Imagine a rich, plush fabric like cashmere, and then translate that fuzzy, soft quality onto your nails. Cashmere nails are a luxurious iteration of the 'sweater weather' nail trend, but with a textured, velvet-like illusion. These manis of the moment are typically adorned with neutral hues, but what sets them apart is the addition of reflective glitter or magnetic effects, creating a mesmerizing and magical look. It's all about capturing the twinkle of holiday lights and coziness of the season.
Just like with any major nail movement, the names of the trends tend to evolve over time. You can consider cashmere nails a fun and festive update to the velour trend, the velvet trend, the magnetic trend…you get the idea. (A mani by any other word would look as stunning!)
The trick to getting the look: it's all about adding a bit of depth and dimension. Picture yourself wrapped in a warm cashmere sweater, sipping hot cocoa by the fireplace—those are the festive vibes cashmere nails bring to your fingertips. The soft, neutral shades combined with reflective glitter give your nails a multi-dimensional and holographic appearance, with a touch of molten sparkle.
Versatile and Luxe
One of the best things about cashmere nails is their versatility. These nails are perfect for any occasion, seamlessly transitioning from work to weekend fun. No matter your nail shape or length, cashmere nails can work wonders for you. Whether it's velour, velvet, magnetic, or reflective glitter, the idea here is to give the appearance of a fuzzy finish.
How can you get in on the trend? The cashmere nails craze is all about texture, shimmer, and shade-shifting effects. It's like having a touch of magic at your fingertips. Neutral and nude shades are taken to the next level, instantly becoming mesmerizing and enchanting. But don't be fooled into thinking that cashmere nails are limited to beige and basic neutrals. You can amp up rich jewel tones with a touch of reflective glitter to catch the light, giving your nails a velvety, luxurious feel. Whether you opt for subtle neutrals or bold shades, you'll have yourself a magical and mesmerizing manicure that's sure to turn heads.
Oh, and don't be afraid to add in some dazzling 3D gemstones, holographic aurora effects, intergalactic-inspired chrome, or ultra-glowy accent nails to the mix…it's holiday season after all so consider it high-time to shine!
No time to head to the salon? No prob! Here's how to get the luxe look of flawless cashmere nails in a flash with ready-to-wear glue on and press on nails. Scroll to shop our favorite KISS and imPRESS styles…
KISS Glue-on Cashmere Nails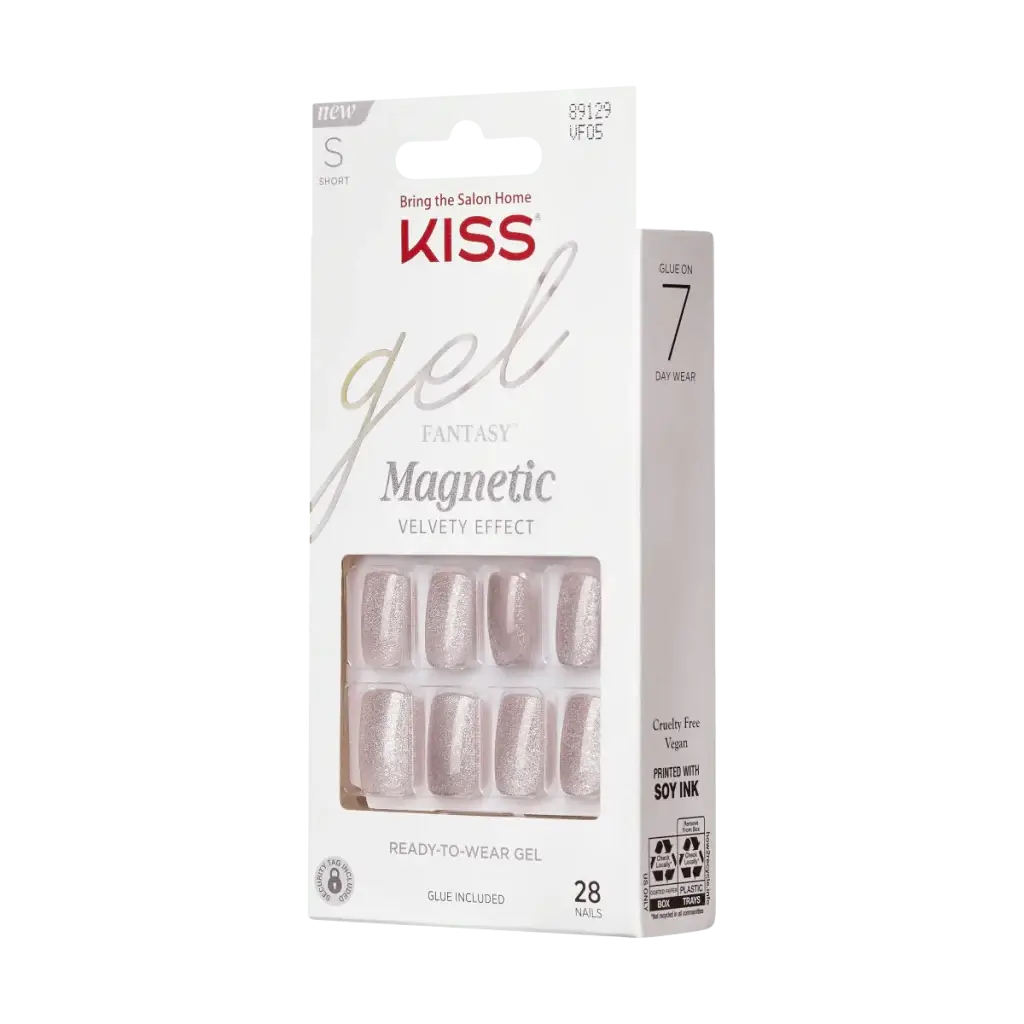 imPRESS No Glue Needed Press-On Cashmere Nails