Black History Month is dedicated to amplifying the history, contributions, and achievements of African Americans in the US, is the perfect time for many socially conscious consumers to support and discover new Black-Owned and Black-Founded beauty, fashion, and wellness brands. Ranging from newly launched indie companies to nationally known enterprises, these black-owned brands are on forefront of representation for all.
Ready to BEAUTIFY with some worthy new  beauty, fashion, and wellness discoveries? Here are some amazing Black-Owned brands to shop and support today, tomorrow, and always. 
Frustrated with the beauty industry's lack of diversity, excessive chemicals, and high price points, The Lip Bar's CEO, Melissa Butler began trialing and testing her own lipstick formulations in her kitchen while working on Wall Street in 2012. Now an award winning, vegan, and non-toxic pioneer of inclusion in the beauty industry, The Lip Bar creates maximum impact, minimal effort products for self-made Women of Color. 

The bestselling Big Timer Volumizing Mascara from The Lip Bar gives volume and length to the shortest of lashes. With an innovative 6 mil hollow fiber brush technology, the mascara applicator has a dual curved brush for lash lifting and curling and straight brush that lengthens the lash for optimum definition. The vegan, cruelty-free, and Dermatologist tested formula is enriched with B5 to improve lashes texture, extra volume, and sheen.
Created by veteran model and entrepreneur Nicole Murphy, yFOY, which stands for 'Your Fountain of Youth', is a clean beauty and wellness brand with a mission to share Nicole's discoveries in achieving a youthful glow from within using clean, vegan skincare and wellness products that boast nourishing ingredients and effective results. Wellness is a lifelong passion of hers, and yFOY is a way for Nicole to support other women in their quest to prioritize self-care and feel good about themselves.
The Vitamin C serum is a perfect blend of active ingredients that stimulates cell turnover, protects against free radicals, nourishes your skin, and reduces dark spots and signs of aging due to sun damage. Delivers an instant, radiant glow pleasing to even the most discerning beauty connoisseurs.
After discovering that many of the products she was using were filled with harmful preservatives, Jamyla Bennu created Oyin Handmade, a yummy all-natural hair, skin and body care line especially formulated for highly textured hair and dry skin with only the sweetest, most nourishing ingredients. Named after the Yoruba word for 'honey', one of nature's most versatile beauty products, Oyin Handmade encourages one to indulge in self-love and their favorite hair and body care products as they would their favorite dessert – minus the guilt!
Oyin Handmade's Rich in Moisture Collection is a suite of hydrating products with superfood ingredients, honey and hempseed oil that work together to drench your hair in moisture, sealing it for long-lasting nourishment, style, shine and more! This collection includes: 
In 2018, My Mommy Wisdom Founder Chelsea Lewis, the daughter of retired OB-GYN and Pediatric Nurse, launched My Mommy Wisdom as a solution to the concerning skin, hair and body baby issues herself and many of her melanin-rich Mom friends were experiencing with their babies, and themselves. Today, My Mommy Wisdom is a certified cruelty-free, organic Black-Owned brands that offers 10+ SKUs and is on a mission to cater to the delicate needs of new Moms and babies, including Eczema and other skin conditions, to support them throughout the prenatal, postpartum and motherhood journey.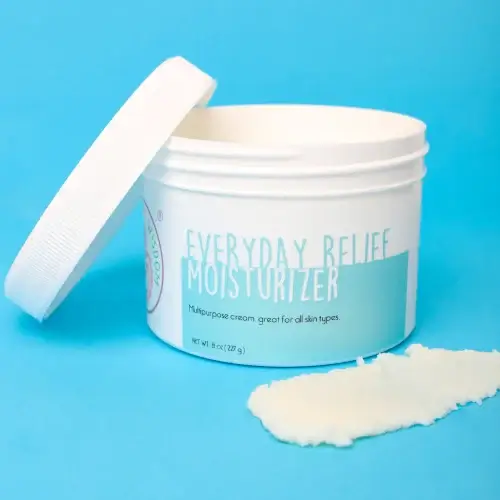 Formerly known as "eczema relief moisturizer," this holy-grail healing cream relieves your skin, hydrates the barrier, and soothes various dermatological conditions. This product is great for babies and mommies of all ages! This moisturizer is made with cocoa butter, mango butter, avocado butter and geranium essential oil.
Nikki Chu is a celebrity interior designer, author, artist and entrepreneur who founded eco-friendly underwear brand Nudies Essentials. Nudies was created for women who are always on the go, love to travel, and still enjoy being chic during that time of the month. This brand enters a whole new category of multi-use undies that are insanely comfortable, super convenient (& Cute!). Nudies have a gentle effect on the environment and are made with biodegradable 100% cotton fabric with recyclable packaging and low impact dyes.
Nudies Essentials are a basic cotton bikini underwear that are easy, comfy and fit true to size. Soft, lightweight and breathable, the high quality cotton fabric is hypoallergenic and a comfortable choice for those dealing with a light to medium discharge or menstrual flow. Nudies Essentials are cut low-rise, with a seamless look and full coverage back, suitable for all figures.
Ten Wilde is an all gold jewelry line designed in Los Angeles. Always aiming for versatility through trendy yet timeless pieces, every jewel is created with the multi-faceted gem in mind. Meaning the ever-evolving, infinite, multi-faceted woman. Established in 2016 by Tenisha Wilde, Ten Wilde is a direct reflection of her personal style, which embodies her love for many styles found across the world. Growing up in the redwoods of NorCal to the multicultural background of the Bay Area, and ultimately traveling the world in her late teens to early 20s – her style is all about being refined within the undefined. With a range of gold plated, gold filled, and solid gold, each Ten Wilde jewelry is offered at an affordable price ranging, under $100, in the form of versatile hoops, layering chains, pendant necklaces, signature waist chains and more.
Personalize your jewelry and make a beautiful fashion statement at the same time. We're obsessed with this initial tag necklace. The gold dipped chain and gold dipped letter tag gives the perfect amount of glisten.
Rebecca Crews is a multi-talented artist who launched her very own clothing line in 2021. Rebecca was inspired to start designing and making her clothing line when she couldn't find a tuxedo style outfit to wear on her 30th wedding anniversary with her husband, actor Terry Crews. Her brand is a mix of classic and contemporary, suited for powerful and feminine women everywhere who want to look and feel their best. Rebecca Crews offers clothing ranging in sizes 6-14 for women with curves in mind, as well as handbags, shoes and cosmetics.  
This versatile snakeskin belt is the ultimate fashion accessory and can instantly upgrade any outfit.  We love the on-trend silver hardware. This is an instant 'add to cart' for sure!
Sabrina Rowe is a celebrity hairstylist and founder of Black-Owned, inclusive and genderless beauty brand NTRL By Sabs that was started during the pandemic of 2020. With unexpected down-time and a deep interest and love for the science behind the products she has used throughout her career spanning 20 years, Sabrina went to cosmetic formulation school with a specialization in natural hair care. As soon as her first formulas were finalized and packaged, her samples became in demand from the clients who could not see her in person due to restrictions. It was then that she realized the next step in her career evolved and NTRL by Sabs was born.
Nourishing shampoo was specifically designed for all hair types. Safe for hair extensions and color-treated hair. This moisturizing, gentle shampoo is free from alcohols, sulfates & parabens. Contains botanical extracts to boost body and  shine.
This all natural, soy candle company was born out of desire to create a candle that could truly fill one's home – not just a room.  The black-owned, woman-owned business founded by Andrea Richter in 2017, specializes in clean burning, biodegradable soy candles and home fragrances. The slow burning candles last up to 80 hours and are available in a variety of unique scents.
Light the way with notes of citrus, sea salt, plum, cardamom, amber, and dark musk. According to the brand: "The first time you light the candle, allow it to burn until the liquid wax covers the entire top of the candle. This breaking in process insures that it will perform better and more evenly throughout the life of the candle. This will insure a clean and efficient burning cycle for the life of the candle."
Founded by mom of 5, Janell Stephens, we would love for you to include Camille Rose Naturals new Vegan hair collection Rosemary Oil, in any upcoming listicles for Black History Month. The new line is available at Ulta Beauty and is ready to get everyone's locks in check! The new collection, strengthens and nourishes every strand with an array of amazing products designed specifically to reduce breakage, stimulate growth and make sure gorgeous tresses are here to stay.
A pure rosemary mist crafted to decrease scalp inflammation, stimulate hair follicles, and drastically boost healthy hair growth.
Created by Dr. Anne Beal, a public health specialist and physician researcher, this inclusive clean beauty brand for melanin-rich skin offers effective formulas that promote skin health and give you ageless beauty. These products are also made to calm and nourish skin to help with dark marks, aging and sensitivity.
Dermatologists have recommended Retinol and Vitamin C for decades as the one-two combo to effectively improve the look of dark marks and brighten the appearance of skin tone, while helping to support collagen to firm the look of skin and reduce the appearance of lines and wrinkles. However, layering those two powerful ingredients requires multistep routines and sometimes causes irritation – especially for sensitive skin. Dr. Beal believes skin care should be simple and decided to create a solution that combines the skin refining power of Retinol, with the brightening effects of Vitamin C into one, easy to use, nourishing face oil. 
The brainchild of celebrity makeup artist and photographer, Danessa Myricks, the eponymous makeup line is known for its extra-vibrant colors and its waterproof and long-wear abilities, making it a cult-favorite among makeups pros, beauty lovers and everyone in between looking to discover an inclusive world of beauty with no boundaries. 
This luxurious skincare product features a concentrated blend of oils—including jojoba, squalane, sunflower seed, and sweet almond—that is infused with gold leaf to impart a radiant, healthy-looking glow. You can add a few drops to your regular complexion products to give them a lightweight, luminous finish.
Oma The Label is a brand challenging industry standards while creating quality pieces that can become staples in anyone's wardrobe. Created by New York-based fashion stylist Neumi Anekhe in 2018, Oma The Label was created after Neumi saw a significant lack of POC representation within the fashion industry. She sought to create a brand that would not only provide high-quality fashion pieces but also further diversify the imagery and representation that have dominated modern fashion.
Born in Norway to Nigerian parents, Neumi's pieces embrace a unique blend of Scandinavian and African influences. With bold colors and minimalist designs, Oma's collection is great for special occasions, casual days, and stylish office ensembles.
This ribbed long sleeve bodysuit is as versatile as it is eye-catching, with a sleek and flattering design that is welcomed into every wardrobe. With a unique Yin and Yang sleeve, this one-arm bodysuit pairs well with countless wardrobe and jewelry pieces to provide a wide selection of styling options.  
CEO & Founder, Taylar Colyar, launched Sip Shop Eat! back in April 2017 after being dissatisfied with her experience as a vendor. Taylar always wished she had a full-circle resource to connect with and learn from other aspiring and successful entrepreneurs. She created the platform for small businesses to gain visibility they often yearn for – it's a community for small brands to connect, share, promote and network with like-minded entrepreneurs!
Sip Shop Eat! is an experiential platform designed to gather, connect and discover all the best food, beauty, style and drinks through IRL and virtual experiences. The platform collaborates with an empowers  unique indie-brands to bring consumers a world of new products and experiences to enjoy. All the brands featured at Sip Shop Eat! pop-up events are carefully curated to bring a collection of the best online and retail life experiences.
Janene Mascarella holds the answers to all your burning beauty questions. Her work has been published by a variety of top-tier titles and media outlets such as Cosmopolitan, Self, Glamour, Health, Cooking Light, Women's Health, USA TODAY, The Washington Post, CNN.com, Woman's Day, Parenting, Consumers Digest, Parents, Family Circle, Babytalk, Weight Watchers, Working Mother, Fodor's Travel, Hamptons Magazine, Consumer Reports, ShopSmart, Modern Woman, CBS News, Shop Etc., Taste Of Home, PureWow, and many others. She was beauty director of BELLA Magazine for over 11 years, the fashion editor of Luxury Living Magazine, and a frequent beauty & lifestyle contributor for Parade.com. Besides deeply pondering hairspray holds and TikTok trends, Janene is the mom of two college-aged kids and she oversees copy and content for KISS Products, Inc.