Hair, nails, lashes, skin…here's my list of the very best Walmart beauty buys you can score right now, for under $20 bucks.
It's beginning to look a lot like Christmas! Now that holiday season is officially here, you're going to need to get camera-ready in a flash. I made a list and spritzed it twice! And the best thing about these beauty-editor approved buys—they're all found at Walmart. So easy and affordable! 
Saving money on your beauty routine can be so helpful especially during the month of November when so much of your budget will be allocated towards gifts. (And because hello, inflation.) There's no need to splurge on your beauty essentials, so if you need a little help shopping for some great products that won't break the bank…well, I'm your girl!
Here's my list of the best beauty goodies you can get at Walmart right now.
KISS Masterpiece Limited Edition Nails ($11.99) are –hands down–world's most luxurious one-of-a-kind ready-to-wear manicure. (I wear them all the time–so glam!) These limited edition high-end false nails come in custom designs that literally look like you spend HOURS at the salon. Style 'Champagne' are long, coffin-shaped white ombre nails with a glossy finish and sparkling rhinestones. Glue-on nails take just minutes to apply, stay perfect for up to seven days, and removal is a breeze!
Prideful's Lavender & Sandalwood Purple Scented Bath & Shower Gel ($4.97) is a sulfate and paraben free bath and shower gel with an intoxicating fragrance. Need a power shower to help you rise and shine and supercharge your day that's also super affordable? This delicious shower gel is one of my faves and not only will it cleanse your skin and refresh your senses, it will also leave you feeling blissfully awakened. PRIDEFUL is a new brand motivated by effecting change and inspiring inclusion, and I love their entire non-gender specific product line!
imPRESS Color Press-on Manicure – 'Reddy or Not', Short ($5.85) is your fast pass to a flawless holiday manicure! With a comfort fit and super hold adhesive, you'll easily achieve a professional-looking manicure at home, in minutes. The false nails come ready to wear, no polish required, and no drying time! They're also easy to apply, chip-proof, waterproof, super durable, smudge-free, and they don't damage your natural nails.
FaceTory Best of Seven Facial Masks Collection ($13.95) are gentle yet effective sheet masks that help to add extra nutrients to replenish your skin and protect it from damage. (Perfect during holiday party season!)  It contains seven different sheet masks to add hydration and balance skin. Each mask focuses on a different skin concern to help boost radiance and support the skin. So soothing!
KISS Colors & Care Edge Fixer – Very Cherry ($3.69) provides maximum and long-lasting hold for all hair types while adding moisture and ultimate shine. Plus, your hair won't get greasy or oily without flaking. Formulated with Biotin B7, it helps enhance and strengthen edges. Each scent is carefully formulated by professional fragrance experts. (Oh, and if you want that bold, laminated brow look, you can use it for that, too!)
Avarelle Acne Spot Patch PM ($6) is the thickest acne patch by Avarelle for overnight use and best absorbs the most stubborn pimples. This heavy-duty pimple patch protects acne from bacteria on your pillow and speeds up its recovery time. Nothing is worse than waking up with an unsightly pimple on you face—ugh! But I love these patches because they're made with clean acne-fighting ingredients: tea tree, calendula, and rosehip seed oil.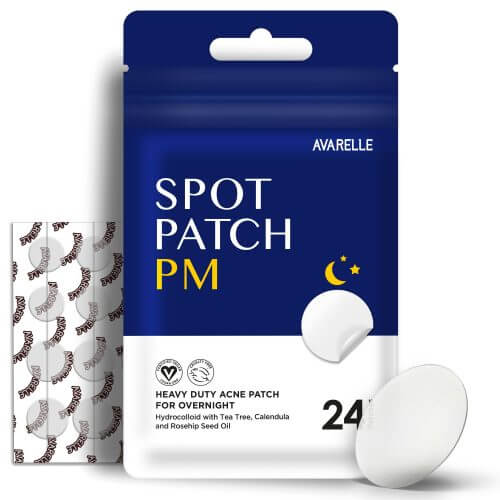 KISS X MEREDITH DUXBURY Holiday Limited Edition False Eyelashes – '4AM' ($7.97) Beauty Content Creator and TikTok sensation Meredith Duxbury's limited edition lash collection for KISS is ultra-glam! Faux Mink lashes look natural and feel super comfortable for all day wear. Soft, ultrafine, and tapered lashes look and feel like genuine mink…so if you're looking to get all glammed up, add these to your cart STAT!
The PuffCuff Hair Clamp ($18) was created by Black, female founder Ceata Lash out of necessity, and it's rather brilliant! The PuffCuff is a triple patented unisex tool that makes it easy to achieve stylish looks without stressing curly hair or causing pain from pulling and tension. As curls come in a spectrum that ranges from loose waves to tightly curled coils, the hair clamp is designed to work with a variety of hair types from 2c to 4c, allowing curlfriends to create many beautiful styles without headache-causing cinching, pulling, ripping, or tearing of their hair.