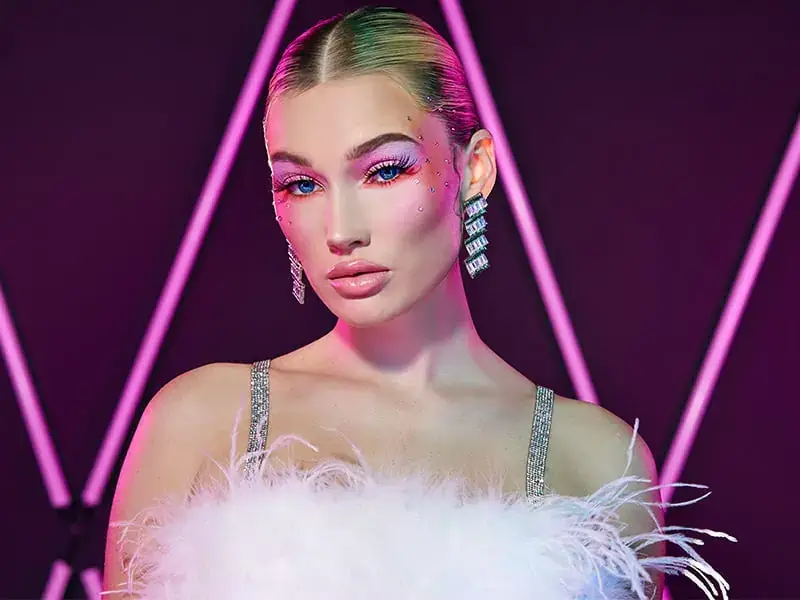 Want to get glammed up and decked out in a flash? If you love the look of faux lashes, you need to drop everything and check out the Meredith Duxbury x KISS Limited Edition Holiday Lash Collection. (Trust me on this one, these falsies are FIERCE!)
In case you're unfamiliar, Meredith Duxbury is –hands down– one of the most popular beauty content creators on TikTok and Instagram with a combined following of 17 million. Just in time for holiday season, the social media mega star (known for her viral makeup videos) has partnered with KISS for a swoon-worthy limited edition holiday lash collab.
Inspired by Duxbury's iconic glam makeup looks, passion for fashion, and longtime love for KISS, these show-stopping lashes have all the fullness, flutter, and flirty fringe you can ever wish for. The festive collection consists of eight gorgeous lash styles with a modern disco flair that promise to instantly amp up all your holiday looks. I mean, who doesn't secretly want to release thier inner disco queen?! Slowly raising my hand…
The KISS Lashes x Meredith Duxbury Holiday Collection retails for $8.99 and they're available in-store and online at kissusa.com, ULTA, Walmart, CVS and Walgreens. They are all seriously so gorgeous, but since they're limited-edition, I suggest you scoop up all the styles right now. Being a beauty editor for over a decade, I have tried on a lot of lashes (A LOT) and these are instantly obsession-worthy.
So, I had the amazing opportunity to meet Meredith Duxbury last week at the launch event for her new holiday lash collection held at The W Hotel, Hollywood and I have to say, it was quite spectacular. In true Meredith Duxbury x KISS fashion, there were disco balls and glam galore everywhere you looked. In person, she's incredibly radiant, warm, and genuinely grateful for her immense success, which in my opinion, gives her star power an even more remarkable sparkle. When she walked into the party, I literally dropped the potato croquette out of my mouth mid-bite. (OMG, she's stunning IRL.)
I sat down with Duxbury moments before guests arrived, and the mega beauty content creator opened up how her new limited-edition holiday lash collection with KISS is literally a dream come true.
Wow, this is going to be quite an event. What are you feeling right now?
It's really insane because I have been using KISS lashes since as long as I can remember. It's always my go-to, I never finish a makeup look without a lash. So the fact that I have my own lash collection with KISS is insane to me—12 year old me would be bawling her eyes out right now…it's so surreal.
So how did the collab all come about?
When KISS reached out to me, I was in shock. I have been wearing these lashes for the longest time, so it was an immediate YES, I would love to create a collection with you. Zoom after Zoom, we curated everything. It was based off of a disco holiday 70's theme, and I'm a very full glam type of gal. They came to me and said we always see your TikTok's in these colorful, bright eyeshadows and they wanted to incorporate that into the looks and the packaging. It's just the perfect collaboration!
How long have you been a fan of KISS products?
I can't even remember how far back. Going into CVS, it was always just something that was so affordable and easy to pick up. It was always my go-to. I remember in college, going to parties, last minute I would get into my car and run into CVS—I need KISS lashes. It was always something that I needed in my makeup bag…it's just been forever.
Applying false lashes can be tricky if you're new at it. What's your best tip?
I always apply the middle and the inner corner first and secure those. And then I go in and attached the ends. It just works very well for me. And another tip (this is literally a game-changer for anyone who is struggling with putting on lashes), wait for the glue to get tacky. I feel like a lot of people don't know that—they put the glue on and then the lash right away and then it goes sliding off. Seriously, if you wait at least 20 seconds it will make the world of a difference. It will stick right to your eye, exactly where you want it.
I love how creative and edgy your videos are. You always seem like you're having so much fun and it's very inspiring. What's your makeup philosophy?
For me, makeup in an art—each different product goes towards creating a masterpiece, so starting with your face, with no product on, is your canvas. And as you add on, you're really painting a picture…creating a piece of art. I always say, makeup is a form of creativity and self-expression and there's no right or wrong way to do makeup. It's all fun and that's what makeup is supposed to be.
Your rise to fame was pretty meteoric. Tell me about your very first TiKTok and could you have ever imagined it would lead to all this?
My first TikTok was a little transition video. I was in my bathroom, in sweats, it was the "Bibbidi Bobbidi Boo" song and it transitioned into full glam makeup with a pink outfit. My TikTok really started with couples videos with my boyfriend. It didn't start with makeup, but then my followers started asking me questions and engaging with me and that's when they started saying how much they loved the makeup I was wearing in the videos and they said, "can you show us?"
Then I just went for it. I began creating content and transitions and it turned into this massive thing. I started something called #thefoundationchallenge and it was essentially challenging people to rub their foundation on with their hands, and lip synch to Nicki Minaj's "I'm Legit" song and it just blew up overnight—millions and millions of views—and I just kept doing it.
Whoa, that must have been amazing to experience. Like the entire Internet fell in love with you– all at the same time!
I think people really liked seeing me creating art, lip synching, and having fun. It was something fun that they could do when we were all in our houses during Covid and everyone wanted to be a part of it. That's really when my career took off. I got 6 million followers in one month. I was really crazy, I just remember waking up every night at 3 am to my videos being viral and I was like, how is this real life?! I was in my last semester of college, I was still doing to homework and my professors would ask me to present on how I started this and how it's going… it was all happening so fast!
So now with your new lash collection, you have the ability to inspire makeup looks in all new ways.  That must be so exciting!
I'm so grateful for the opportunity to be doing what I'm doing and to be working with KISS. I've been using KISS lashes in my videos for so long. I don't really show products in the TikTok's because I'm doing quick lip syncing, but the number one question I get on my videos, "what are those lashes?" and I always say, "it's KISS, KISS, KISS, they're so affordable at CVS and Walmart…they're the best!"
Meredith Duxbury X KISS Launch Event