The Doll Lash Trend, a recent sensation on TikTok, revives the iconic look of the spiky-yet-fluttery eyelashes reminiscent of 1950s baby dolls and 1980s Barbies. This style, which rose to fame during the mod movement in the mid-1960s with icons like Twiggy and Sharon Tate, is now a favorite among actresses, K-pop singers, and beauty influencers. These lashes, known for enhancing the eyes' natural roundness and achieving a doll-like look, are ideal for those with wide-set, almond-shaped eyes, monolids, and narrow eyes, and are perfect for special occasions.
What Are Doll Lashes?
Doll lashes, which has gained significant traction in 2023, harks back to the ultra-feminine and high-glam looks of the past, particularly the mod makeup era of the 1960s. This style, characterized by big, dazzling eyes and pronounced eyelashes, was popularized by icons like Twiggy and Dolly Parton. The trend's recent revival can be attributed to its nostalgic yet modern appeal, which aligns with the resurgence of '60s mod aesthetics and the ongoing fascination with manga and anime styles. Doll lashes, with their cartoonish and exaggerated appearance, perfectly embody this blend of old and new, offering a playful and distinct look.
The trend's popularity is also bolstered by its association with the Barbiecore aesthetic, which is gaining prominence in both the fashion and film industries, as seen in the upcoming "Barbie" film. Celebrities like Zendaya, sporting the trend at major events like the 2023 SAG Awards, have helped propel doll lashes into the limelight. Her appearance with fluttery, spaced-out lashes complementing her flirty attire underscored the retro trend's ability to look modern, contributing to its widespread appeal.
In 2023, eyelash trends are all about lightness, definition, and adaptability. The doll lash style, with its rounded and open-eye appearance, fits perfectly into this ethos. Its popularity is driven by the desire for a bold statement and the ability to diversify lash appearances. The ease of modifying lash styles without permanent commitment has encouraged people to experiment with trends like doll lashes. This trend aligns with the broader shift towards expressive and individualistic beauty choices, where personalizing one's appearance to feel confident and fabulous is key. The adaptability of strip lashes, DIY lash extensions and press-on lashes, allowing for easy experimentation, has played a significant role in the popularity of doll lashes and other trending styles.
Achieving the trendy Doll Lash look using false lashes is a straightforward process that can offer dramatic, playful results. Here's how you can use different products to create this look:
These are the first-ever press-on under lash applications from KISS. They are self-adhesive, pre-bonded false eyelashes that are applied under your natural lashes, making the bands invisible. This method provides a natural and seamless look.
How to Use: Simply press these Falsies under your natural lashes. There's no need for lash glue, making the process mess-free and easy.
Options Available: The imPRESS Press-on Falsies come in various lengths and in different styles such as Edgy Wispy, Bold Volume and Sassy Wispy.
IMPRESS FALSIES in 'Sassy Wispy' ($8.99)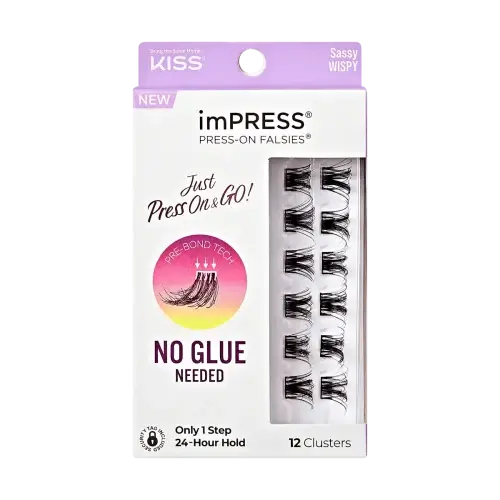 Falscara offers lash extensions in minutes. These are false eyelash wisps worn under your natural lashes, providing a realistic look akin to lash extensions but at a fraction of the time and price. They are easy to apply and reusable.
How to Use: Apply these wisps under your natural lashes. They can be worn for a day or up to 10 days.
Options Available: Falscara provides options like Extra Drama Wisps (14mm-18mm) for a bolder look and Lengthening Wisps (10mm-14mm) for a more subtle enhancement. They also offer bottom lashes to really double down on the look.
Falscara Bottom Lash Wisps ($7.99)
Description: Inspired by the Royalcore aesthetic, this collection offers luxurious, featherweight lashes with a comfortable and pliable lash band. There are six regal styles in this collection.
How to Use: Apply these lashes using the standard method for strip lashes. They offer a regal, dramatic look that's still comfortable to wear.
Options Available: Styles include Noblesse, Empress, Legacy, Supreme, and Sire. These vary in length and fullness, allowing you to choose the one that best fits the Doll Lash look you're aiming for.
Lash Drip provides a unique "wet look" finish, creating thicker, bolder, and darker lashes. The lashes feature a wispy and spiky pattern, perfect for achieving a dramatic dewy glam look. They are designed to be universally flattering, enhancing most eye shapes with their fluffy, crisscross pattern and spiky boosted volume.
LASH DRIP 3D DRAMA in 'Drenched' ($4.99)
Bonus Beauty Editor Tips
When choosing the right false lashes for the Doll lash trend, consider the shape and size of your eyes, as well as the desired level of drama. Longer and more dramatic lashes will provide a more pronounced doll-like effect, while shorter and more natural styles offer a subtler version of the trend. Whether you opt for the under-lash application of imPRESS Press-on Falsies, the realistic look of Falscara wisps, or the regal styles of Lash Couture, KISS offers a variety of options to help you achieve this playful and trendy look.
As a beauty editor, here are some tips to rock the Doll Lash trend:
Choose the Right Type: Depending on your eye shape and lash strength, pick the appropriate type and length of your false lash.
Proper Application: For a seamless look, ensure falsies are placed as close to the lash line as possible.
Aftercare: Maintain the health of your natural lashes by following proper aftercare routines.
Experiment with Lengths and Styles: Don't be afraid to mix and match different lengths and styles to find your perfect Doll Lash look.