Fall is officially here and we all know what that means. Time to indulge in our love for hot chocolate and pumpkin spice lattes, scented candles, and soft goth glam. If you're not already the type to do any form of goth makeup, soft or otherwise, then the tips and tricks listed below will be a great way of trying out a more edgy, but still trendy type of beauty look. 
Channel your inner Wednesday Addams with some of these goth-inspired beauty points.
All about that (makeup) base
When you think about more traditionally goth makeup styles, it's all about creating that flawless matte finish, much like a porcelain doll. 
However, as the name implies, soft goth glam is a softer, more dewy take on the beauty vibe. 
For the look, go in with a hydrating moisturizer and or primer, then a low-to-medium coverage foundation, concealer, and color-corrector. Once your base makeup is finished, set the whole thing with the Joah Beauty Glow Perfecting Powder ($14.99) and the Hydrating Glow Cream Mist ($17.99) for a fresh and glowy finish.
Playing with proportions
Whether it's soft goth or a more hardcore style, the makeup is built around a contoured face. 
Avoid going in with a bronzer to contour, as some more beach bunny babes may lean towards, and delve into more cool-toned contour products to produce more chiseled features. 
For the fairer babes, you can go in with a product like E.L.F.'s Halo Glow Contour Beauty Wand ($9).
Or for the babes of all complexions, you can "contour" by using cool-toned blush on the apple of your cheek and upwards, a method referred to as draping.
It's all in the eyes
With soft goth glam, it's all about a mix of neutral greys, cool browns, and smokey black shadows for the eyes.
We reached out to New York-based makeup artist Sofi Chernyak for her tips on how to get a soft goth glam look. 
"To get an authentic Wednesday Addams evening look, focus on "deepening" facial features." To give the eyes a bit of depth, Sofi recommended to "start with a soft black smoky shadow and make sure to blend it out well on the lower lid and a bit outward."
If you're a bit intimated by a black eyeshadow, depending on your skin tone, go in with a light to dark purplish grey shadow, like from the rom&nd Better Than Palette in "Dusty Fog Garden" ($24) or the Kaleidos Makeup "Flowing Haze" Makeup Quad Palette ($22), instead.
"For extra drama, apply the Lash Couture 3D Faux Mink lash extensions "Cluster 02" ($7.99) in the smallest size on the bottom and top lash lines. Add a powerful feminine touch with the KISS Impress Color set in "Dark Room" ($7.99)," Sofi added.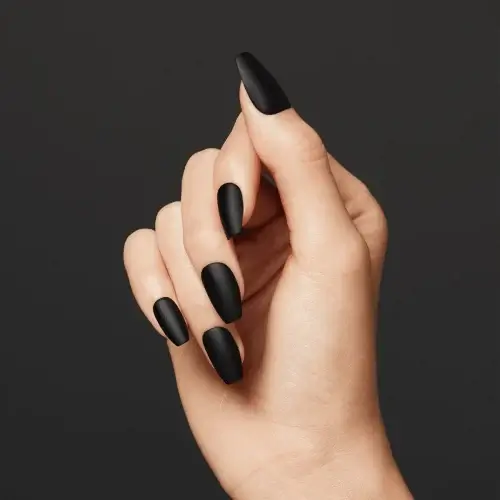 For those who love adding in a pop of color into whatever makeup look they're playing with, you can go in with a shimmer or glitter shadow along lower eye line or in the corner of the eye. I would recommend going in with a colors like a cherry blossom pink, lavender purple, baby blue, or a Tinkerbell-esque green. 
Pucker up buttercup 
As much as I love a classic matte black lip, it's a bit too on the nose for a soft goth glam. 
There are a few options you can play with when it comes to a more delicate version of a goth beauty look. 
Keep everything else; the brows, eyes, and contour on the lighter side, and go in with a glossy version of vampy lip color, like dark red or purple. Like the NYX Shine Loud Vegan High Shine Long-Lasting Liquid Lipstick in "In Charge ($12). Or you can go in with a matte black lipstick and place a light layer of clear lipgloss on top.
Go in with a lipstaining product and place on the center of your lips and lightly smear outwards for a "just bitten" type of vibe. 
Somewhat similar to the cherry cola lip, use two colors, red and black to create a plump, multi-dimensional lip look. You can achieve this with a red and black lipstick of choice, like with the Black Moon Cosmetics "Mon Cher Duo" ($36).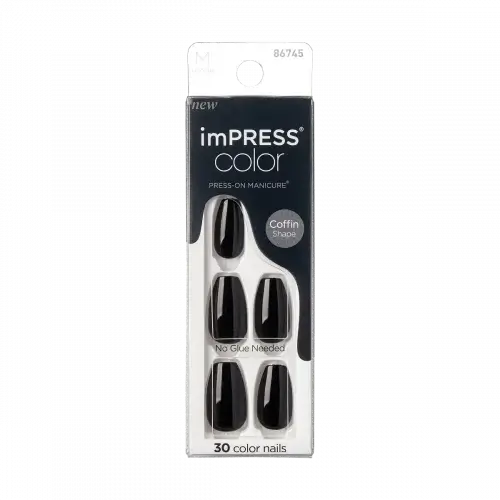 If you're a fan of dark academia or simply want to put a twist on the soft glam look, then soft goth glam may be just the vibe you're looking for this autumn. Remember, at the end of the day makeup is all about experimentation and having fun with representing different parts of your personality. 
Sofi Chernyak is a New York-based makeup artist with an impressive client list including Vogue Ukraine, ID Magazine, and The New York Times.