TikTok has introduced us to many, many, many a nail fad. From food-inspired trends like blueberry milk and glazed donut nails to theories revolving around red nails and their power for the wearer. The most recent nail obsession TikTok is talking about is the "black nail theory". What is this theory, you may ask, and how does it differ from any other type of manicure? Well grab your nail file and your favorite hand lotion and read the article further to find out!
The "Black Nail Theory" Explained
"The Red Nail" theory introduced around the beginning of 2023 revolved around the hypothesis that men are attracted to women with red nails because the color reminded them of their mothers. Whether or not that particular statement is accurate is debatable, but there is no denying the appeal of a sexy red manicure.  The black nail theory operated on the idea that black, a color that is often considered both fashionable and intimidating, has a similarly powerful, though way less oedipal, allure.
The impact of black as a color in the realms of fashion and beauty is extensively acknowledged. Black tends to symbolize robustness, refinement, and an intriguing mystique. When chosen as a nail color, it often reflects enhanced confidence and a daring, unreserved character. Selecting black for nails can empower wearers, demonstrating their inner fortitude and a penchant for distinctiveness.
As explained by @divashay888, black nails make the wearer seem bold, daring, and just a tad mysterious.  Before the late 1990s, when grunge made its way into the world of fashion, black nails were strictly associated with goth, emo, or punk culture, which we also love. 
This trend showcases how color psychology and personal style choices intersect to create a unique form of self-expression, where the color of our nails can speak volumes about who we are.
But 90s and into the early 2000s, black nails were rebranded as being a chic, more vampy alternative to the everyday pink or bright red manicure. 
As a longtime lover of black nails, I'm certainly here for this moment! Here are some bold black sets to help you test out this theory for yourself.
Holiday-Inspired Black Nails
You'll be celebration ready wearing imPRESS Design in style 'Wish List ($9.49).
KISS Voguish Fantasy in 'Hush Rush' ($8.99) will instantly add a little glitz and glam to the goth look.
Black Nails for Newbies
If you love the idea of the "black nail theory" but are still a bit too intimated to rock a fully black manicure, don't worry!
Ease into the trend with this glam, but still fierce Vougish Fantasy French Designs "Magnifique" manicure ($8.99). The almond-shaped set is the perfect way to ease the fierceness of an old-black set with the classic elegance of the french-tip.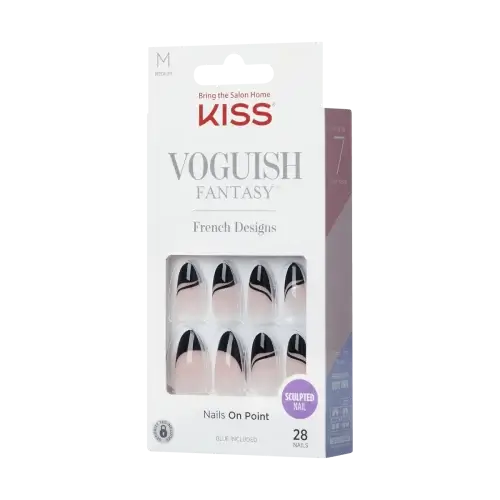 Stilettos All Day, Every Day
Just because black nails aren't solely associated with spooky babes or grunge anymore, doesn't mean you can't channel some witchy energy, like with these extra long, black talons from the Salon Color "Black Cats" set ($8.99).
And for those who like the stiletto style of "Black Cats" but want a matte finish, check out the Salon Color "Mummy" set ($8.99).
It's OK To Be Square
If you're not a fan of the stiletto shape, no worries. Try out these extra long, square-shaped nails with a high-shine finish with the Gel Fantasy Jelly Gelée set ($8.99).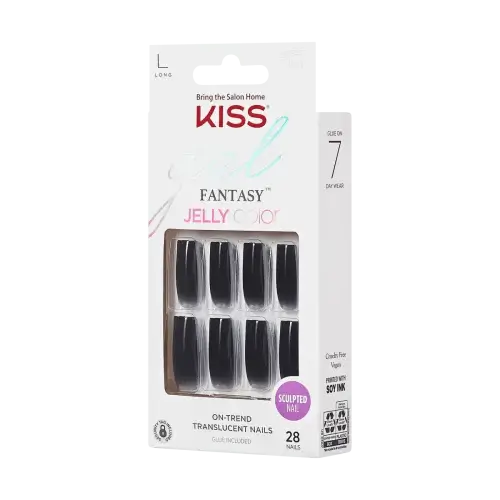 And if you're looking for black nails that are on the shorter side, but still glam, give the Impress Color "All Black" set ($7.99) a whirl.
For the matte version of the "All Black" package, check out the Impress Color "On the Road" mani ($7.99).
Black Nails But With A Twist
If you love the look of black nails but still want to show off a more creative flair, you can ride the Impress Design "Cowgirl" ($9.49) nails off into the sunset.
For the flower-loving babes, we see you and present the Impress Design "Festival Night" set ($9.49) featuring a coffin-shape and beautiful yellow sunflowers.
Don't forget about the flaming hot Impress Glow in the Dark "Scared Silly" set ($9.49), not only do these nails come in a gorgeous glossy black finish, but they also featured glowing green flames. Wicked!
And for the girlies and guys that love a good graphic design, you need to try out the Salon Design "Boo to You" set ($8.99).
These long-length, coffin-shape nails feature awesome monochromatic designs including a checkerboard print, swirling sparkles, and abstract smiley faces.
Whether you love a red, black, or even chrome manicure, remember that nails, just like hair, makeup, and clothes, are another way for you to express the creative self that you are.