As one of only five Latina women in the U.S. to helm an international magazine, Vanessa Coppes, CEO + Editor-in-Chief of BELLA Magazine brings the full depth of her diverse background as an immigrant to running a successful subscription-based beauty and lifestyle magazine and media company. 
Born and raised in the Dominican Republic, at the age of 13 Coppes had a clear vision of working in the magazine business in New York City but pursued the more predictable path of becoming a teacher. After graduating college and attending design school there, she taught for several years and loved it, but knew her future held more.  In 2006, she made the permanent move to the U.S. and was certified to teach in New York but after a bout with post-partum depression, decided to completely re-invent her life.
And that she did.
Immersed in the fashion world, Coppes created her line of costume jewelry, which landed in the pages of BELLA New York Magazine in 2009.  She was offered a position at the publication; marketing director and digital social strategist, and in her role, she was exposed to the entire scope of the magazine industry. In 2019, Coppes had the fortitude to purchase the magazine when it went up for sale and created the company known as BELLA Media + Co. The print and digital magazine is now an international bi-monthly lifestyle publication focused on fashion, beauty, mind and body, celebrity, philanthropy, arts and culture, and travel.
Now at the helm of BELLA Magazine (and the newly launched BELLA Latina and BELLA 360), Coppes aims to push the content boundaries to encourage and inspire everyone to embrace who and what they are. She dutifully and gracefully accepts the great responsibility regarding the messages the media is sending to young men and women. Her goal: "to empower and be a positive agent of change."
Below, the 17+ year media executive took a pause to talk beauty, inclusion, and all things BELLA.
When you first gained ownership of BELLA Magazine, what was going through your mind… what were your hopes and dreams for the magazine?
WTF did I just do? Literally, but my gut (and higher power) just told me to jump and trust the process. I had always wanted to write for a publication, but owning one was never something I really considered until it happened. Having worked all aspects of a media company, I knew I could do it. What excited me the most after that, was that I now could at least try to truly make a difference in an industry that has been very unforgiving towards women. I've collected and read magazines since I was 7 years old. What a gift to be able to decide what types of stories we tell and how we reframe beauty standards so that each issue can be a genuine reflection of the world we live in.
Soon after BELLA was under your direction, Covid struck, and all things came to a screeching halt. How did this crisis affect you and how to do overcome it?
That was another WTF moment. I remember kneeling in my bedroom, crying hysterically –fugly crying to be exact- rethinking what I had done. I had invested all of my savings and clients were jumping ship left and right. I had employees who depended on their salaries to pay rent and buy food. To say it was insanity for a few weeks is an understatement. But again, my gut told me to keep going. I had a job to do and even though the future for BELLA was uncertain (as it was for so many of us in different industries), my team came together and one by one told me, we were not going anywhere.
I remember our first virtual team meeting after the shutdown with tears in my eyes. We were all scared but knew we still had a job to do. We shifted gears and began to really tackle human interest stories, the small businesses that were surviving, the frontline workers that were risking their lives on the daily to keep us safe. Something told me to start selling BELLA merchandise and that was literally our saving grace. Our readers understood what we were doing and supported the direction we were headed and the BELLA community reached international status.
The team created content of their everyday lives and we banded together to create series that entertained, helped pass the time when we couldn't even remember which day of the week it was. We began to showcase more and more the beauty that could be found in everyday moments. We truly became a representation of our tag line, "Life is BELLA!" And that is what continues to sustain us and what created the lane we are thriving on today. I could not have overcome those difficult moments without my team. The credit and my motivation goes to each of them.
From the very beginning, your mission for inclusion, representation, and equality was in place — even long before it even became the "right" thing to do. Is that something that was always very important to you?
Very important. When I lived in Ohio form the age of 7-12, my skin color was something I learned to defend from the day I walked into my elementary school. As an adult, after having my own children, getting stopped and asked by strangers if I had adopted them because they didn't look like me was something that also fueled my need to educate others. I am a former teacher after all. I understand the power of words, but more importantly those words backed by action. As the EIC of an international publication, I not only decided who made our cover, but the responsibility of that decision is something that to this day, I do not take lightly.
Traditionally, the magazine industry has promoted outdated, often unobtainable standards of beauty.  How important is it to you to break beauty boundaries on the pages of your magazine and redefine what being beautiful even really means?
As a mother, an aunt, and as 1 in 5 Latinas in a position like mine, I will not add to the noise and misdirected messaging traditional media has contributed in sending men and especially young women for way too long. BELLA may be a tiny army, but it's a mighty one. The work we've done collectively to break norms is the only reason we are still here. You can't talk about being inclusive if you only take action once. Real inclusion means normalizing behaviors and featuring people who otherwise get overlooked.
BELLA exists today to make difference. It is not easy work to believe you can sit at the table where larger publications are seated. However, I've always believed that you can't ignore someone who doesn't give up. It's just not in me and I'm so grateful that I have a team that is willing to battle it out with me.
There is beauty in absolutely everything around us, we just have to see it.
I know it's very hard to pick a favorite, but can you tell me about one of your favorite, most impactful covers?
I get asked this a lot but without a doubt, working with Misty Copeland. Not only am I a frustrated ballerina (childhood trauma story for another time), but her cover was shot by world-renowned photographer Anne Geddes.
A few months prior to working with Misty I had begun taking private adult ballet lessons again. Had I not seen Misty as an example, someone who also started her ballet career later in life, I wouldn't have had the courage to go for it again in my 40s. When I was a teacher, I collected and used Anne Geddes stationary to send notes to my student's parents. To work with two women whom I've followed and admired practically my entire life, was a full circle moment. This is a real example of why representation matters.
A lot of young girls look at magazines and think, "wow, I wish I could look like that." Tell me a little bit about what goes on behind the scenes on magazine cover shoots, and how much work that "effortless look" entails.
It's so much work, so much but also, shoots are one of my favorite parts of the creative process for each issue. Even though BELLA's cover stories are celebrity driven, I take great care in deciding who can best represent the theme of each issue. I look at the talent's complete body of work, not if they have a book, movie or product to sell. Their story has to be of service to our readers.
In the stages of planning, I am very clear with the talent's team of what the goal of the issue is. I haven't always had perfect experience in the process but in general, our cover talents have been incredibly gracious to work with and generous with the time and dedication they've given to the issue they will be featured in.
Working BTS with so many different personalities can be challenging, but I am also unapologetic about the expectations I've set for staying the course. This work and industry can be and has been portrayed as self-serving and light. To me it's a responsibility, one I take very seriously.
You have achieved some major accomplishments…tell me about your most recent "pinch me" moment.
Just recently I was invited to speak at FIT in New York. Coming from a tiny island in the Caribbean, FIT has always been an aspirational place to be in, even if just to stand outside and see it. As a former teacher, to be in front of a group of students who are diving into the world of fashion was truly a gift. They had so many questions and I shared so many lessons. To be in the place where so many creative greats have been in, bucket-list item checked off for sure.
Ok, now I want to know how you beautify! What are a few of your makeup favorites?
I am obsessed with having a strong brow and lash game -your eyes frame your face and it's the first thing others look at. I personally believe if you have that down, you can get away with a bare face. I decided to get my eyebrows tattooed a few years ago so that they would be as perfect as possible -and what a time saver it's been. For lashes, no joke, I stock up on KISS Lashes, specifically loving the Couture Faux Mink -Boudoir. I buy them in bulk. They just give my eyes that little extra oomph I'm after.
I have long days – on and off cameras– and I am not one to retouch or touch up my makeup while I am on the go. Since discovering Melanie Mills' Super Long Lasting Setting Spray, I am golden and forever changed! After applying, your makeup won't move and it adds a touch of shimmer, making your skin look glowy and camera ready for hours.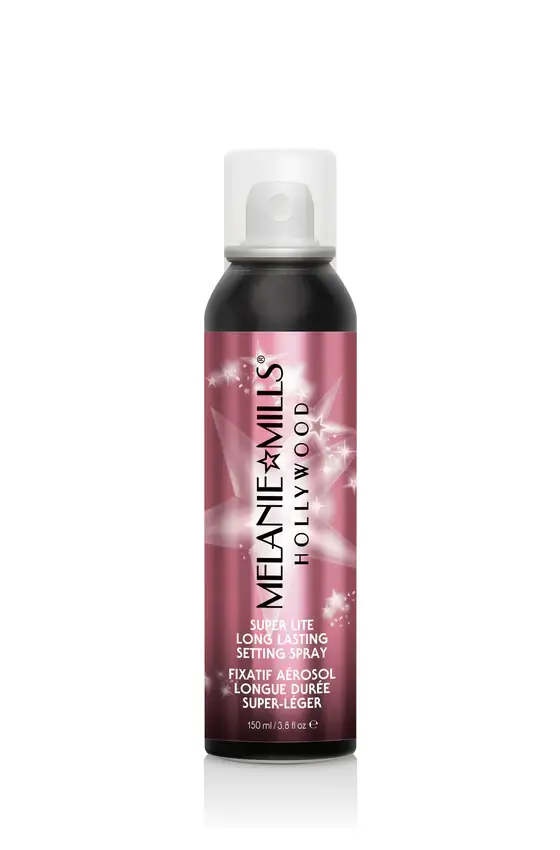 What's the best beauty advice you were ever given, and who gave it to you?
 Not directly beauty related but probably the most powerful words that still carry me through. From my parents: "Be you. Period." They embraced my crazy and encouraged me to pursue whatever I was passionate about. From a high-school teacher: "You don't see it yet, but you're going to change the world one day."